Enjoy

Best-In-Class

Styling With Our Most Advanced Trimmer!
A Good Trimmer is essential to getting the perfect haircut or shave. The best hair trimmers allow men to blend and edge to achieve barbershop-quality cuts and styles. So whether you're a professional barber or a guy who wants to use a high-end product to cut a fade yourself, the ARTEC Professional Hair Trimmer has you covered. This trimmer is a must-have.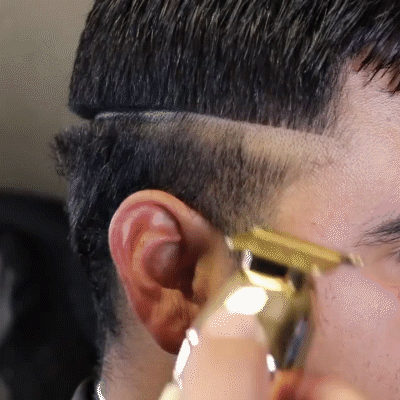 Here's the best CLOSE-CUTTING, carbon-steel T-blade trimmer for hair outlining, designing, and dry shaving. These close-cutting trimmers are a must-have for detailed work on hair, beards, and mustaches. Trim your beard and hair quickly and cleanly and create any style.
 Trimmer's enhanced automatic sharpened precision and durable titanium ceramic blades are designed to provide perfect haircuts. The Artec Trimmers are durable, fast, easy, and precise for cutting hair, trimming, carving designs, and bald head cuts. The Professional hair clippers have a stylish shape, are small and portable, and easy to hold, which will be your ideal choice in a hair trimmer.
WHY CHOOSE OUR HAIR TRIMMER?
 ✔️ Create Multiple Trendy Hairstyles: A stainless steel sharp t-blade provides a deep, close to the skin cut even through dense hair and long beards, without pulling and tugging. Creates perfect line ups and designs. 
✔️ Easy To Clean: Easy access and removable head makes cleaning fast and convenient.
✔️ Stylish and Quite : Sleek, ergonomic design for comfortable use and less than 58 dB sound.
✔️ Extended Battery: Fully charged trimmer provides up to 180 min of use before recharge is needed. 
Specification:
Power: 5W
Charging Time: 2.5h
Usage Time: 160Mins
Power Type: Wireless, Rechargeable
Voltage: Global Universal(100-240V)
Blade Material: Carbon Steel
Package Includes:

Customer Support:

If you have any issues, please contact us at support@jkgeneralstore.com and we will be happy to assist you anytime. 
I really like this trimmer working great highly recommend it.
The machine is working very well, I am happy to use it. It's easy and functioning well.
Happy so far
I've really liked this product so far. It's very sleek and easy to use, and the packaging is minimal which I love. I've used it 2-3 times and it's done a nice job. I was really happy to find a metal one without a million attachments.
It's a gift that hasn't been given yet